Introducing the Mindray NinjaSP!
Our next generation machine building off the Mindray Elite 8 platform.
The NinjaSP was produced exclusively for SonoPath by Mindray, by enhancing the SonoPath Elite 8 platform which will no longer be available in veterinary medicine.
Enhanced features built-off the Elite 8 platform

More advanced software on a Windows 10 platform

Full cardiac package standard on every unit

Standard options include: Tissue Doppler Imaging, Iscape View, elastography, iWorks, Ineedle

Compatible with the 6LE5Vs transrectal probe for large animal work

iWorks - Exclusive for the SonoPath Mindray NinjaSP: It takes the sonographer through various protocols as well as the preloaded complete SDEP® Abdomen 17pt progression and the SDEP® Echo 7pt progression, so nothing is missed. This is great tool for those new to the SDEP® protocols as well as those learning virtually. There are no other machines on the market that offers this exclusive tool.
Optimal Workflow - The NinjaSP has optimal imaging, even in large dogs (in our opinion, as heavy ultrasound users, where 'the rubber meets the road' in veterinary sonography). The NinjaSP has a strong advantage over other ultrasound machines in this area. Enjoy a quick, easy-to-use workflow, and ALL of the practical features that can grow with you, rather than limit you.
High Resolution – The Mindray NinjaSP has the highest resolution and largest screen in this price range, making this an incredibly well priced machine, with imaging capability to match (or better!) more high-end machines costing twice as much.

Flawless Veterinary Images – Dr. Eric Lindquist, DVM, DABVP, Cert. IVUSS, Founder, and CEO of SonoPath.com, has more than 20 years as a clinical sonographer, performing ultrasound, reading ultrasound images, and teaching ultrasound techniques, has had the unique opportunity to evaluate every ultrasound machine available in the veterinary marketplace. This gives Dr. Lindquist an unparalleled level of insight into the many machines available. After years of searching, Dr. Lindquist feels the Mindray NinjaSP provides very high quality imaging on a wide variety of patient sizes and species (even exotics).
These upgrades greatly enhance your diagnostic capabilities and secure product investment protection by ensuring that your NinjaSP will remain at the cutting-edge of imaging excellence throughout its entire life cycle.
The NinjaSP is an excellent option for mid-high-level users looking for improved imaging, workflows, and clinician provided support.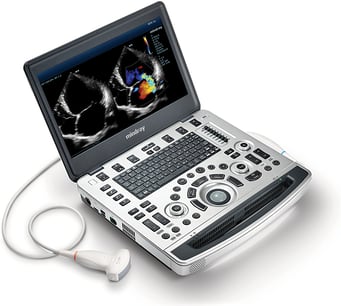 ---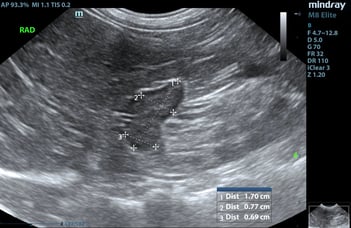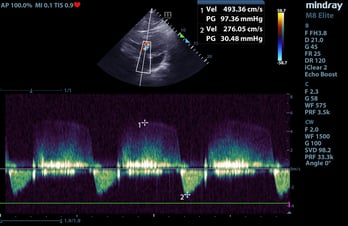 SonoPath.com continually raising the bar in clinical sonography with the NinjaSP by Mindray with the best technical support in the business.

We don't want your machine sitting in a corner collecting dust. To combat this, we have developed a comprehensive series of educational support material, ranging from laminated quick start guides to videos, clinical books, hands-on labs and more.
We offer personalized technical support from seasoned veterinary clinical sonographers who use the Mindray every day. Support is provided via telephone or email, 7 Days per week.
We believe that the key to raising the level of veterinary medicine is education, and education is at the forefront of everything we do.
Your Mindray NinjaSP purchase comes with the following:
Proprietary small animal pre-sets installed, field-tested, and optimized by a specialist.

Personalized onboarding and unlimited support from expert-level clinical sonographers

Quick Start Guide

Discount on Onsite or Virtual Educational courses:

Online or Virtual Live-streaming Courses


3-Day Hands-on Training in at our Andover, NJ Education Center

Access to an expansive library of training videos, and educational resources
Warranty
Every Mindray NinjaSP that we sell comes with a 5-year warranty at no additional cost. This can save more than $15 -$20k! With SonoPath, there is no up-selling, or keeping you on the warranty merry-go-round like many other ultrasound vendors. There are no hidden fees, and we don't use warranty to pad our margins.
Installation & Support
All Machines are examined by a SonoPath Team member:
Before your machine is shipped to you, it is unpacked, examined, and the inventory is documented by a SonoPath team member.
Our mobile sonographers will configure the machine with custom presets, set up your SonPath direct dicom transfer, and compression settings.


Each machine is then field-tested on every patient size and organ system providing you with the most efficient workflow, settings, and pre-sets personalized to your needs.
When you receive your machine:
Open the box

Plug your machine into an electrical outlet (once fully charged it has a 90-minute battery life)

Turn on the power (boots in 15 seconds)

Connect a probe to your machine

Choose preset for region/anatomy you will be scanning

Perform scan


Upload images to Sonopath telemed portal for review and feedback
Mindray NinjaSP Probe Configurations: