Join us for SDEP® 3-Day LIVE Virtual Lab Weekends
SonoPath offers a 3-day live virtual lab and all levels of scanners are invited to join. The virtual attendee's will have their own dedicated instructor and virtual assistants ready to answer any questions while you are scanning along with your instructor from the comfort of your own facility. Virtual attendee's will see the lectures in real time along with in-person attendee's, at the Andover, NJ Education Facility.
Items included with your Basic Registration:
Free online access to SonoPath Education platform and a link specific to your course that includes SDEP® Progression instructional videos, SDEP® technique video's and much more to help you prepare for you lab weekend.
22 RACE approved CE credits
Dedicated virtual wet lab instructor
Live chat for all day Q&A
Scan along from the comfort of your own clinic!
Post lab requirement for your CE certificate - complete a QC Voice Memo (for FREE), so we can provide you feedback and guidance on what you learned during the weekend (must be completed within 1 month of your lab weekend)
Registration with Educational Support Package includes above as well as:
Laminated 36" x 24" Poster - Includes step by step instructions to complete the SDEP® Protocol scan with notes and tips to improve your scanning efficiency
The Curbside Guide - A book with descriptions, clinical signs, diagnostics, treatment recommendations & ultrasound illustrations for diseases commonly diagnosed with ultrasound
Ultrasound Image Library - Unlimited access to a comprehensive library of nearly 1,000 ultrasound images for reference.
We provide your virtual instructor a list of the virtual attendee's and their skill set and goals (information provided through a pre-event survey), so that the instructor can pace the wet lab/scanning session appropriately.
Post lab, virtual training, and support services are available through SonoPath's educational telemedicine™ services where attendees can work with SonoPath remotely to perfect their image sets.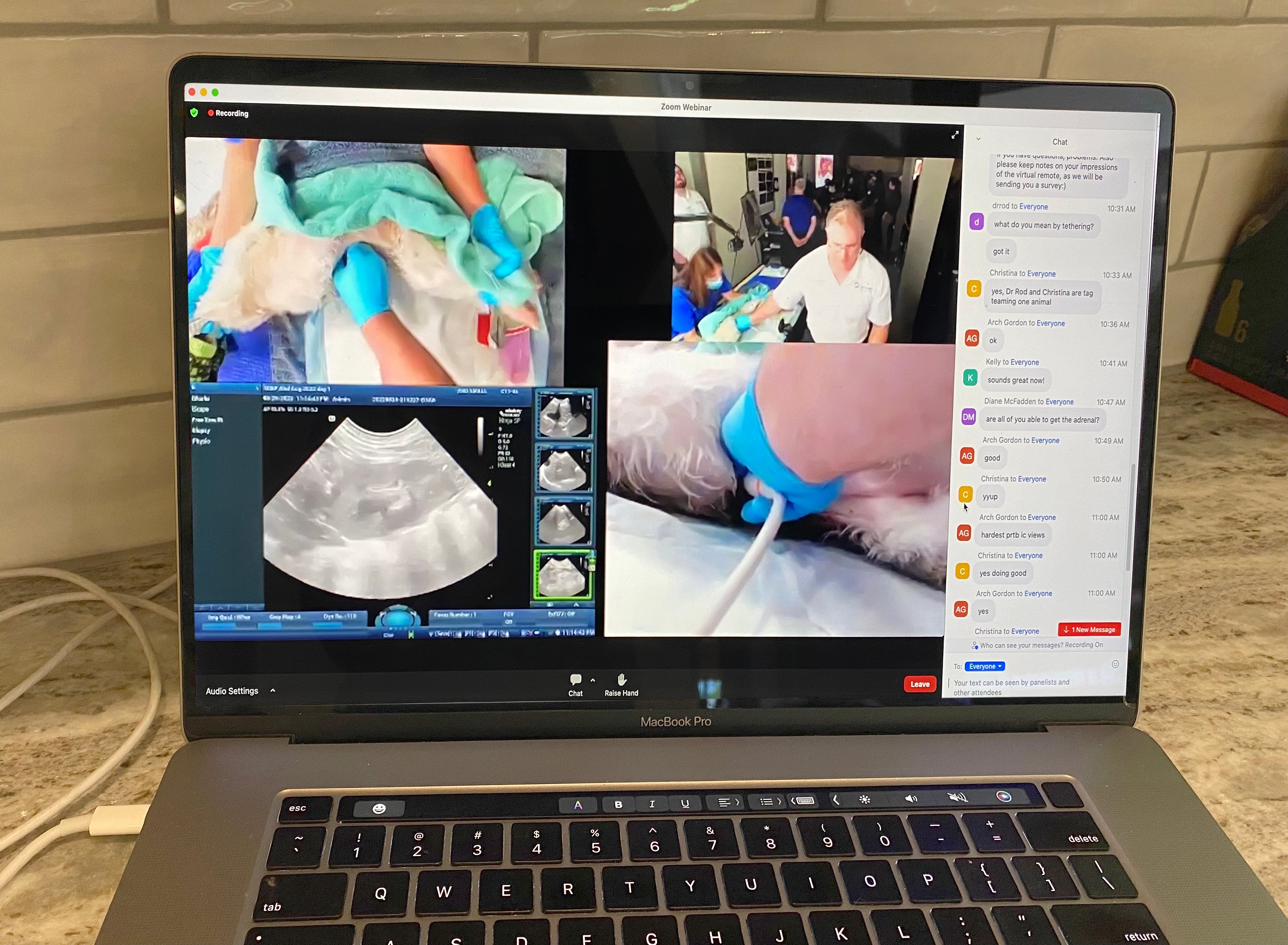 Pre-Lab helpful links to prepare for your LIVE Virtual Weekend
Post-Lab Requirement:
1 QC Voice Memo (complimentary, $45 value) for technique feedback on what you learned during the weekend. Once you have submitted your scans, you will receive your feedback and CE certificate for the course.
Click for information and instructions on how to upload your scans for your QC Voice Memo Evaluation

.
If you have any questions on setting up a free telemedicine account, please email: SDEP@sonopath.com
About SDEP®
SDEP® (Sonographic Diagnostic Efficiency Protocol) is an innovative standardization of the sonographic process to maximize the image sets of traditional and alternative approaches and facilitate in-house or telemed evaluation. This protocol is repeatable by any type of sonographer with a rapid learning curve of standard and high-end views as it's the hallmark.